Nursing Home
Caring for Residents
'Our residents do not live in our workplace; We work in their home.' That's the philosophy of the Sree Narayana Mission Nursing Home (SNMNH). SNMNH has been a place of comfort and respite for our residents for the past four decades. Our professional nurses and trained caregivers provide dedicated nursing and rehabilitative services and care to our residents round-the-clock, while providing our residents the comforts of a home. The various activities organised at the NH encourages greater social interaction between residents and staff and ensures the mental wellbeing of our senior residents. There is no greater feeling than seeing the joyful moments between the residents and our staff who care for them!
We understand that the design of the physical environment of the Nursing Home will enable residents to feel empowered, independent, safe, and comfortable  SNMNH is working towards alternative models of care, which will provide our residents with a better quality of life and care.
Please see our Visitation Policy here.
Long Term Care Schemes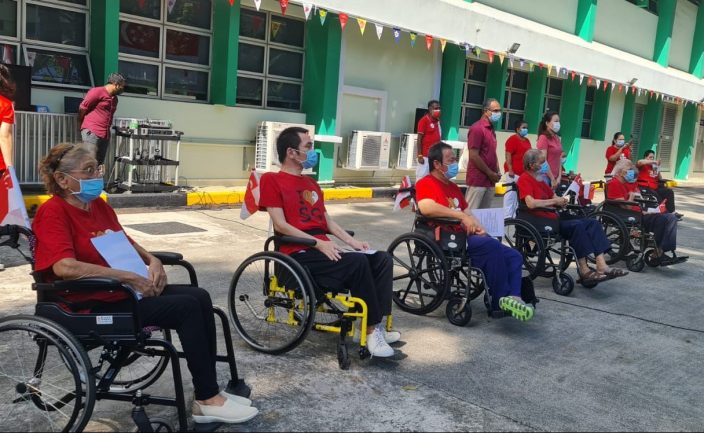 Get Assistance
Pioneer Generation Disability Assistance Scheme (PGDAS)

Silver Support Scheme (SSS)

Interim Disability Assistance Programme for the Elderly (IDAPE)

Eldershield 

Careshield

Elderfund 

Medisave Care
What are the admission criteria?
An elderly person applying to stay in a nursing home must be:
Physically or mentally challenged because of illness;

Semi-mobile, using a wheelchair or is bedbound, and require medical and nursing care;

Unable to be cared for at home by family or paid domestic worker, and tried all other care options such as using day care, home medical, home nursing services etc.

Meet the Means Test Criteria and referred by Agency for Integrated Care (AIC), the central agency that processes all the applications to government-funded nursing home in Singapore.
What are the costs involved?
The basic cost varies between $2100 and $3100 a month (before MOH subsidy), depending on the level of care required. Other charges which are not covered by the basic cost may apply.

Singapore Citizens and Permanent Residents may be eligible for government subsidies and financial assistance, depending on the monthly household income per person, amongst other criteria. The amount of subsidy will be determined through the National Means Testing System (NMTS).
How to apply?
Speak to a Medical Social Worker at any of the public healthcare institution

s

to explore the various care options available. Once the assessment has been conducted, the Medical Social Worker will assist you to submit an application to AIC.